Let yourself be seduced by this incredible artist with 10 years of experience and performance.
Fire and light dancer, artist of hula hoop and burlesque performer, this woman full of charm excels in her disciplines to offer original entertainment of a remarkable quality.
The energy she radiates on stage is striking. Audacious and dynamic, she puts all her passion into her creations to offer the public unique and generous acts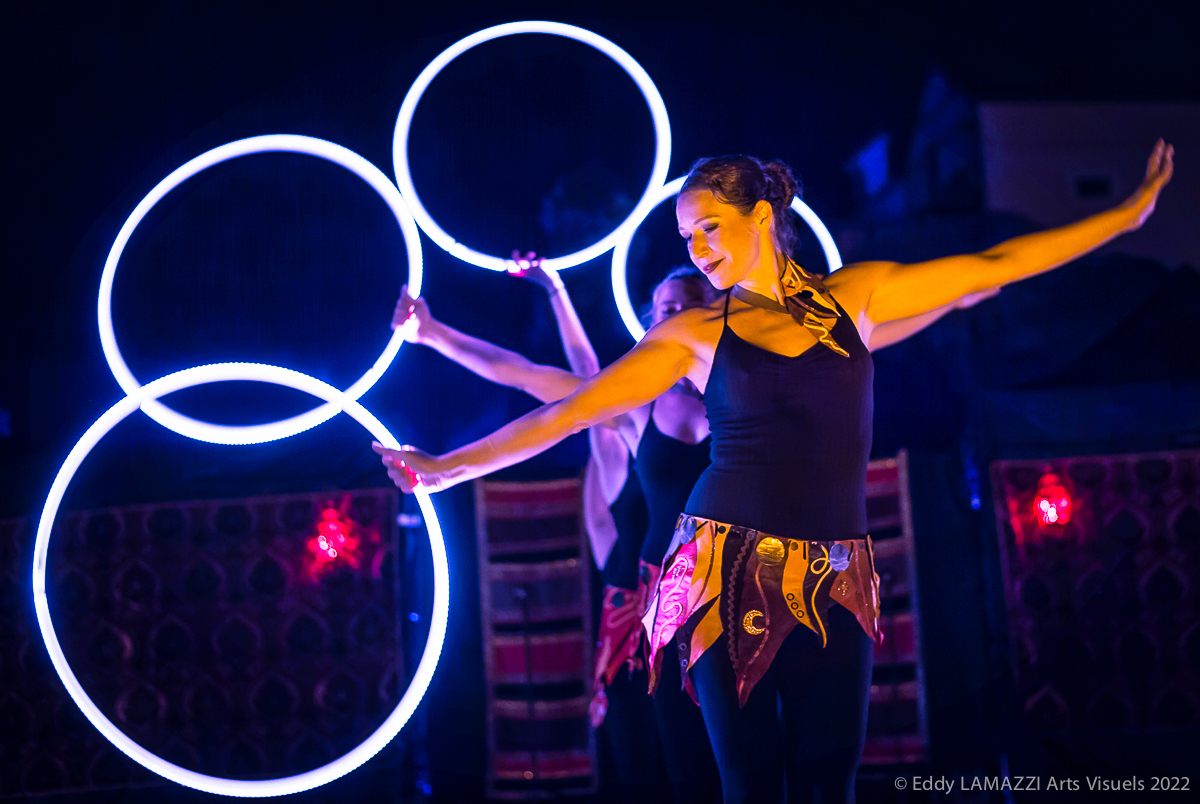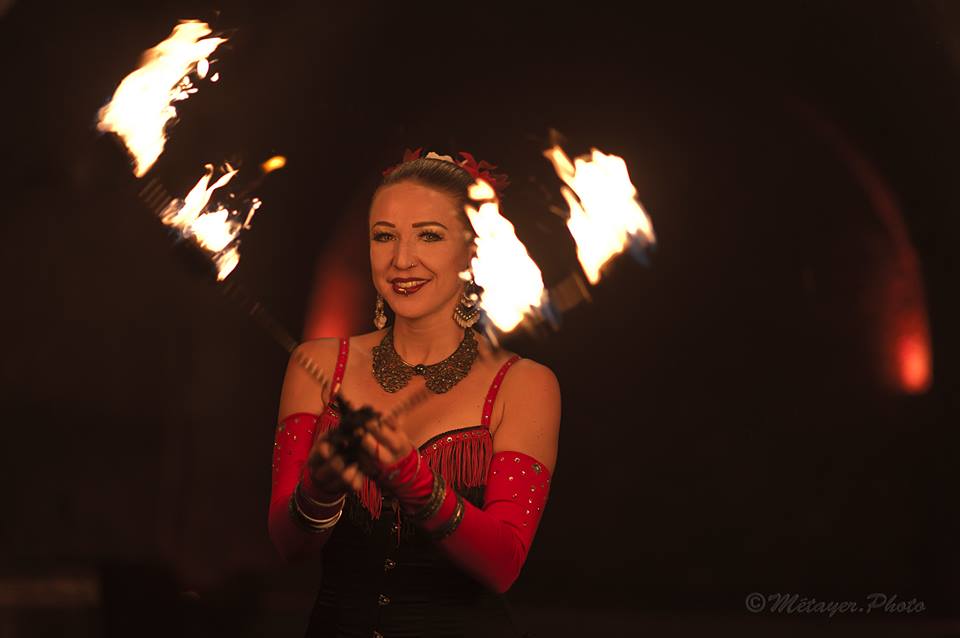 Enter a whirlwind of flames, succumb to a voluptuous sway or fly away in a shower of light, each of its services is an invitation to travel that will leave you with unforgettable memories.
Fire and light show - hula hoop performance - Dance of the world - Burlesque
From Paris and Le Mans, available everywhere.
BIOGRAPHY
Multiskills performer specialized in fire and light spinning and hula hoop, Lunart-X is a dynamic artist who combines grace, humor and generosity with lots of creativity.
She gained her ability to capture the public's attention from her experience as a street performer around the world from 2009 to 2013: itinerant artist in Australia, fire juggler in Thailand and circus artist in Colombia, where she worked for 2 years with the troupe Circotico Artes Experimentales.
Back in France in 2013 she started in burlesque at the "Ecole des Filles de Joie" from Juliette Dragon and participates in various events by providing unique acts, with colorful characters featuring burlesque and circus arts. In 2015, she was selected for various international events such as the London Burlesque Festival, the Berlin Burlesque Festival and the World Burlesque Games where she won second place in the triple crown category.
Fascinated by the scene, the sensations that provide the exchange with the public and the wealthed of the teamwork she also invested in collective projects: she co-directed the burlesque comedy "Strass Academy", integrates the collective Dreamcatch ( event-organizers) as artistic director, then co-created with Loren DL the "Pin-Hoop" the first french hula-hoop company.
Little by little, the hula hoop became her favorite object and in 2016 she joined the team of teachers at Hoopera, the first hula hoop school in France with which she gave regular classes, workshops and initiations in Paris. She is also regularly invited by other associations to give workshops all around France.
Always hungry for new knowledge, she continues her artistic training by studying the modern-jazz, contemporary, oriental, Indian and tribal dances.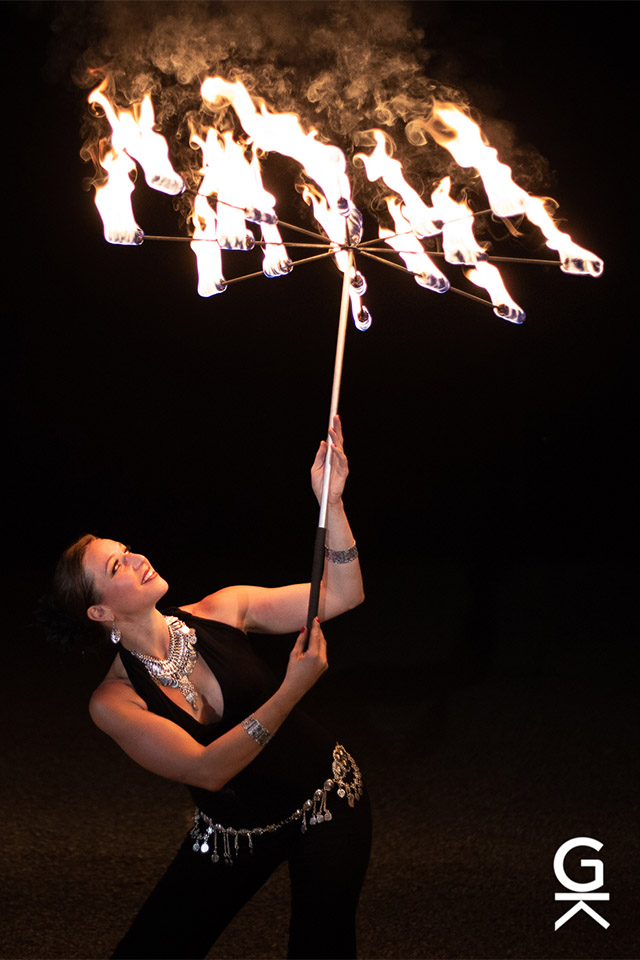 SHOWS


ARDENSIA - FIRE AND LIGHT SHOW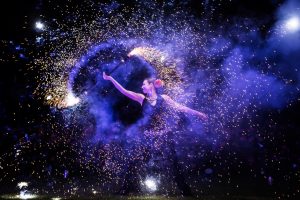 Fire and light show based on rhythmic choreographies, powerful musics and mastery of many fire props.
From 1 to 6 performers
Duration : 30 minutes - video - group video 
---
FEERIE - LIGHT SHOW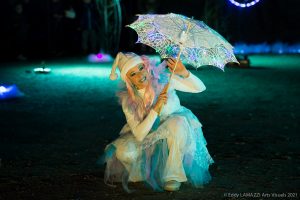 Welcome in the dreamlike world of "Féerie". A world filled with color and magic, where malicious fairies play with the lights and dance with the stars.
This poetic light show is ideal for the Christmas. The light-dancers, in pastel costumes, manipulate a multitude of luminous objects. Optionally, an aerial artist takes the show to the heights and pyrotechnic effects can sublimate it.
From 1 to 6 artists
Duration : from 30 to 45 minutes -  duo video - group video
---
SYMPHONY - LIGHT SHOW FOR CORPORATE EVENT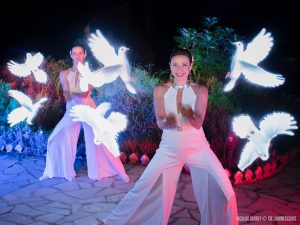 A percussive show, a true whirlwind of dance and light with a backdrop of rhythmic music. Show with a strong and neat aesthetic combining grace and precision. It includes the possibility to add text or logos into the display of the props, ideal for personalizing corporate or private events.
From 1 to 6 artists
Duration : from 8 to 15 minutes - video - group video 
---
AURORA - LIGHT SHOW WITH TRIBAL AND BELLY DANCE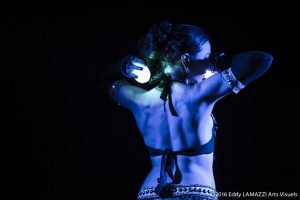 This light show, hypnotic and dynamic at the same time combines the beauty of dance with the technique of juggling with a hint of technology. It feeds on the riches of different cultures, their dances and their music to offer a moment of magic that will transport young and old.
Solo or groupe show
Duration : from 15 to 30 minutes - video 
---
NOMAD - FIRE SHOW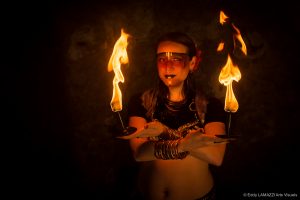 This dynamic and joyous show is an invitation to travel. The choreographic writing take his inspiration from the richness of the dances of the world: flamenco, oriental dance, indian and tribal dance. The music is carefully selected to create a real change of scenery. Young and old will be transported to a world of colors and flavors for an unforgettable moment.
Solo or groupe show
Duration : from 15 to 30 minutes - video
---
ESMERLADA - CIRCUS AND DANSE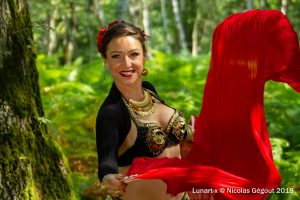 Draped in gold and red, the dancer turns and waves on the rhythm. Her dances is enriched with beautiful props such as hoops or silk fans. Her smile and her energy will amaze young and old.
Solo show
Duration : 20 minutes - Video 
---
THE PIN-HOOP - GROUP SHOW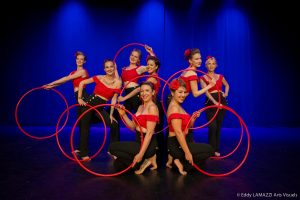 This company was created in 2018 by Lunart-x (choreographer and artistic director) and Loren DL (manager) and is produced by Hoopera. It has a dozen of hoopers and offers entertainment shows and hula hoop initiations suitable for all types of events.
Ambience ultra dynamic and all public, the Pin-Hoop put the fire on stage at each of their appearances. 
Group show - Video 1 / video 2